Archive for May, 2015
VentEnterSearch will be spreading Can Confidence to the gulf coast of Florida for the Sun Coast FOOLS. Jimm and Eric will be teaching the Can confidence portion of a H.O.T. class in Englewood, (FL) on May 28th – 29th. This will be a two day class with the same delivery both days to accommodate shift schedules, space is limited so sign up fast.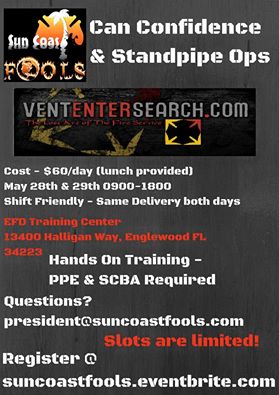 This class is designed to build confidence on one of the most often neglected tools found on nearly every fire apparatus, the 2 1/2 gallon water extinguisher. The "Can" can be an extremely effective lifesaving tool by allowing a well-trained fireman to quickly apply water between fire and victims. Attendees will learn proper filling and pressurization steps, how to build homemade carrying straps and other useful "Can" modifications. The class will also cover valuable skills on carrying and searching with the "Can," and confining fire with it as well. Students will cycle through a "force an interior door off its hinges" prop and use this door to hold back live fire and smoke. Finally, attendees will perform live fire attacks with nothing more than a "Can" and witness the effect of the "Can" on pre-flashover conditions.
The target audience for this class is firefighters and fire officers at any level with a desire to increase their confidence and learn how to properly utilize the water can.
Register: www.SunCoastFOOLS.eventbrite.com
Cost: $60
No comments
In this video we demonstrate one way of gaining entry into an outward swinging double door. Before we get into the post we want to get something out of the way… Yes, we recognize this is a glass door and our plan "A" should simply be to take out the 6×8 inch glass, reach in and unlock the door. What if during your plan "A" efforts you reach in and realize the lock is keyed on the inside as well? This additional security measure is typical when glass is located near the lock. For the purpose of this post, we are simulating that plan "A" is not an option and we are going to force entry using conventional techniques.
One firefighter forces are not as difficult as they may seem. With a little practice, one man forcible entry is a very efficient use of man power on the fireground. With a quick size-up of the door in the video we notice it is an outward swinging double door with a slam latch married with a dead-bolt. With this particular occupancy being a hotel, we can strongly suspect some type of chain or bar latch towards eye level of the door (which can be easily defeated). Again, your plan "A" could be to take a glass panel, reach in and unlock the door, but we are moving on to plan "B".
When dealing with outward swinging double doors we typically wouldn't have any type of door stop, making it even easier for a one firefighter force. However, what we will typically find is some type of steel or aluminum strip placed over the space between the primary and secondary doors. If this piece (as shown in the video) can be removed, attack its connection points and force it off. If it's part of the primary door then attempt to pry it away to expose the gap.
After we expose the gap, we can enlarge the gap with the use of an aluminum wedge or an axe. This makes setting the Halligan a lot easier for one firefighter to perform the force. Because this is an outward swinging double door we can simply drive the adze straight in without having to "steer" the Halligan around a door stop. Once the Halligan is set, it's time to make the force, BE DYNAMIC! You are by yourself, remember force is multiplied the harder and faster you pry the Halligan! Like always get out and see what's in your first due and train on real doors when you have the opportunity.
In this video we are using the ForceWedge from Daniel Troxell of TroxFire. The "ForceWedge" is a 5.5 inch by 1.5 inch high strength aluminum wedge that allows a firefighter to easily capture or wedge any gapping progress made during a forcible entry operation. Daniel is a solid brother that makes many other tools and forcible entry related props at a very affordable price. Check out his ForceWedge at www.TroxFire.com
No comments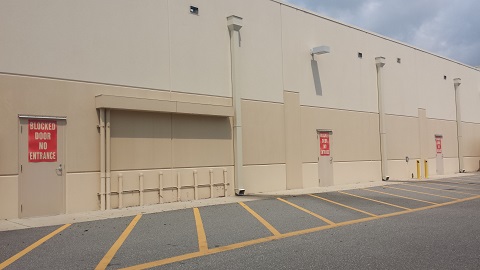 Seeing these signs on the rear of a commercial occupancy can tell you a few important things. The most obvious is that the door may actually be blocked. But how blocked is it? Is there an actual wall on the other side of the door? Is it fully blocked by high rack storage? Or is it just partially blocked by something less significant like a partial or rolling rack storage?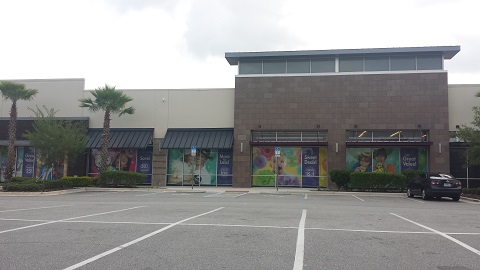 What else can this sign tell us? It more than likely indicates that one large business occupies multiple tenant build out spaces. When the building was designed they simply built a shell, with no particular tenant in mind. This is becoming a more popular construction method because it keeps the developers options open in regards to potential tenants.
As you can see from the Alpha side this is one large occupancy that occupies multiple tenant build out spaces.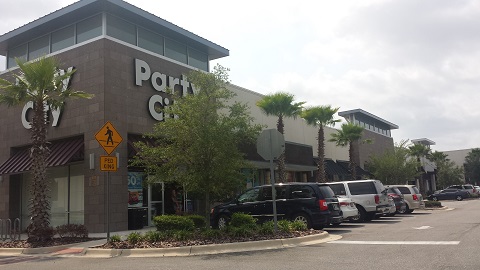 On the Charlie side, you can see that three of the doors are blocked, leaving only one potentially clear. We say potentially because these rear storage areas are often overloaded and doors quickly become blocked with merchandise. This is particularly a problem during the holidays when stores are overstocking to keep up with demand.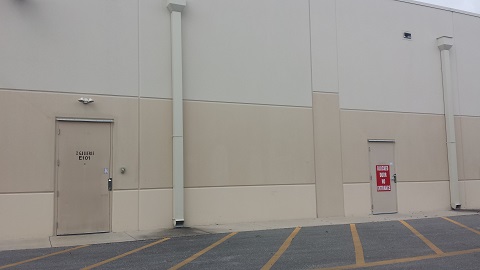 When operating at the rear of a commercial occupancy it would be important to transmit this finding over the radio. It may help command appreciate the size of the occupancy if it not already obvious, and it may help interior crews understand that they may not have easily accessible secondary means of egress. From a RIT perspective, the RIT team should certainly make their way to the Charlie side to evaluate these doors themselves. Their presence may make the RIT team re-evaluate their potential rescue plan in case things go bad. Depending on time, and conditions, it may be worth forcing the door anyway to truly evaluate how blocked it is, and how it may be used to support operations.
2 comments