Lieutenant Ronald K Bourgeois from Buffalo (NY) Engine 1 sent in this video of a MAYDAY prop they are using in Buffalo. Unfortunately, the motivation for the prop and annual training came from the tragic loss of two of Buffalo's Bravest on August 24, 2009. Lt. Chip McCarthy and FF Jonathon Croom both fell from the first floor into the basement while searching for a reported person trapped in the structure. (We recently received some additional information from BFD about this training. The training was in the works well before the tragic LODD. The planning and development of this training actually began in January of 2009, before the LODD incident, not as a reaction to the incident.)
The purpose of this prop and training evolution is to build confidence and promote self rescue techniques. The portion of the prop shown in the video is part of a confined space maze that ends with the blindfolded firefighter falling through the floor. The collapsible floor section is activated by an instructor pulling on a rope, removing the hinged floor section's support. Once the floor section collapses, the firefighter falls into a pit filled with foam. The pads end up surrounding the firefighter making movement a bit more difficult, similar to having debris from the collapse. The prop also contains a window at the end of the foam pit so the firefighter can practice self rescue form a high window. The prop cost was roughly $450, and was constructed with 2×4's and ½" plywood. The trap doors were hinged with three heavy duty hinges, with a lip underneath for support. A hinged 2×4 holds the doors up and a rope is the trip mechanism.
Unfortunately, we cannot take back any of the LODD that occur in our line of work, but we can learn from them and try to prevent them from occurring again. Training evolutions like this are an important component to learning from them.
[flv]http://www.vententersearch.com/videos/props/buffalomaydayprop.flv[/flv]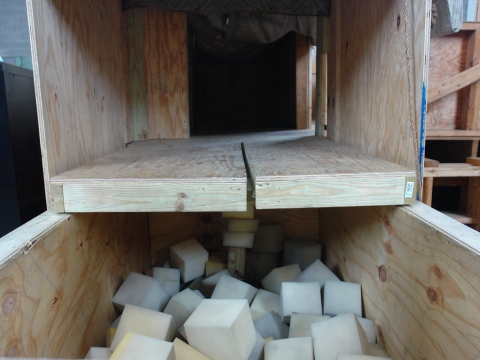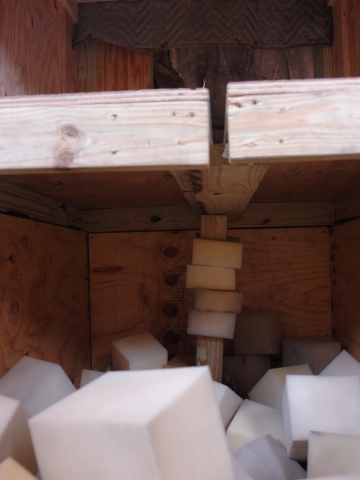 78 comments