Archive for December, 2017
Maekin Healy from Santa Clara (CA) Fire Department sent in a way to store ratchet straps for easy deployment.
Here is a simple tweak to help avoid multiple twists in your Auto Extrication straps during deployment. During storage, attach the hooks to the trigger. Next, simply lay the strap out flat, fold and roll like a donut roll. Last, Secure with any type of cord or Velcro strap. To deploy, remove cord or Velcro strap and roll it out like a hose roll. No more twists!
Below is a comparison photo of a strap post deployment, which one would you prefer?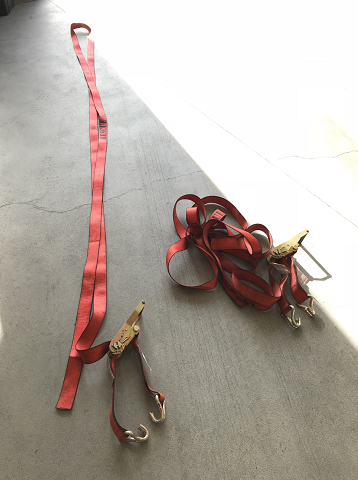 The picture below shows the least ideal way to store the straps. However, this is arguably the most common storage method.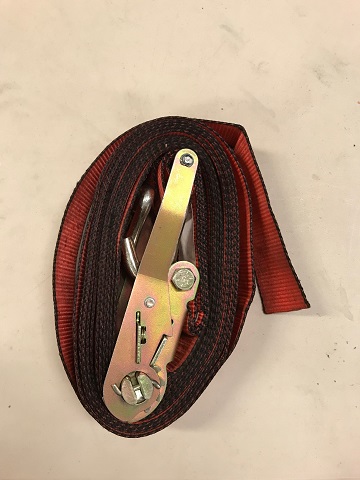 The picture below shows the ideal way to store straps. This will prevent the strap from becoming twisted during deployment.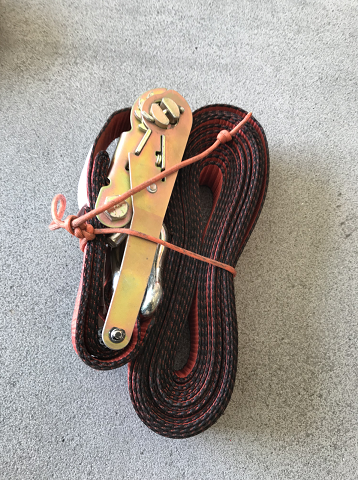 This is a simple adjustment you can make to provide a cleaner deployment of straps when they are needed on scene. We are also a fan of how clean it looks stored in this manner and will surely make for a more organized compartment on the rig.
1 comment
When learning forcible entry the discussion of where to place the forks of your Halligan will inevitably come up. Your options are above the lock, below the lock or between the locks if there's more than one. All options have their place but there is one particular type of locking mechanism where placing the fork in between the locks won't work. Mortise locks (as pictured below) have been around since the 1800's.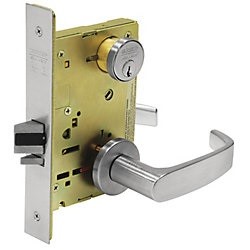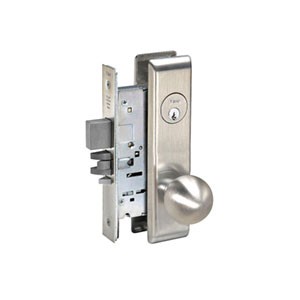 These locks get their name from the mortise or pocket that is required to be cut into the door for installation. They're commonly found in older buildings, commercial buildings, high end residential or any place that requires a durable lock that will hold up to thousands of operations.
Sizing up a door for a mortised lock is difficult and has made me lean towards always placing my forks either above or below the locks and never between. If you are a strong believer in placing your forks between the locks then you should know that mortise locks normally don't have escutcheon plates that are offset from the door more than a ¼". This is because the lock cylinders are threaded into the mortised guts of the lock and this requires the installer to be able to spin the lock into position. Bored Cylinder locks are held together with screws and can be offset from the door greater distances.
If you haven't figured out why you can't place your forks in between the locks from the pictures above then take a closer look at an example of a door forced by Orlando (FL) Fire Department's Tower 11 B shift crew.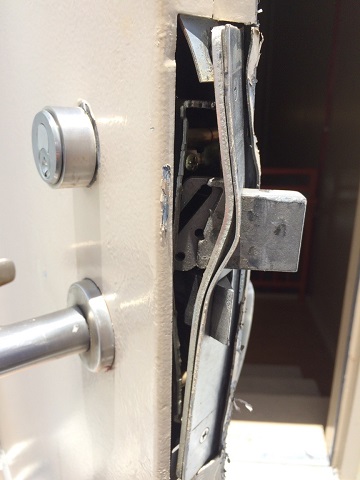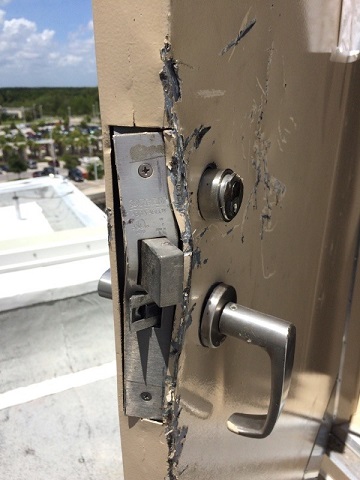 Photos by: JJ Cassetta
This door had to be forced to allow smoke to ventilate from the upper floor of a hospital. It was inward swinging and set into a metal frame with concrete walls. As you can see if the forks were placed between the locks they would end up running into the deadbolt. This would prove to be very frustrating in smoky conditions and is the reason you should stay away from placing your Halligan there. Another option is pulling the cylinder using k-tool or other lock pulling tool. The mortised lock is a durable lock but the cylinder is only held in with two small set screws.
---
---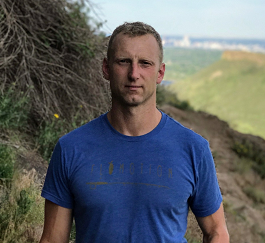 Jeremy Rubottom is currently a Firefighter with the Orlando (FL) Fire Department, assigned to the Heavy Rescue 1. Jeremy has been in the fire service for a total of 15 years. Prior to joining OFD, he was a Firefighter for the St. Johns County (FL) Fire Department for 5 years. He is an instructor at Valencia Fire Rescue Institute, working with the Truck Company Operations and Special Operations programs. Jeremy is a Georgia Smoke Diver and has taught at the Orlando Fire Conference for several years. He is also a H.O.T. Instructor for VentEnterSearch, LLC.
1 comment