Archive for February, 2015

VentEnterSearch's own Jimm Walsh and Eric Wheaton will both be presenting at the 2015 Orlando Fire Conference in Orlando, Florida. The conference runs from February 26th-February 28th, 2015 and offers both a leadership symposium as well as a hands on training (HOT) program.
Both Jimm Walsh and Eric Wheaton will be teaching a segment of the Fire Fundamentals HOT class titled Can Confidence. This class is designed to build confidence on one of the most often neglected tools found on nearly every fire apparatus, the 2 1/2 gallon water extinguisher. The "Can" can be an extremely effective lifesaving tool by allowing a well-trained fireman to quickly apply water between fire and victims. Attendees will learn proper filling and pressurization steps, how to build homemade carrying straps and other useful "Can" modifications. The class will also cover valuable skills on carrying and searching with the "Can," and confining fire with it as well. Students will cycle through a "force an interior door off its hinges" prop and use this door to hold back live fire and smoke. Finally, attendees will perform live fire attacks with nothing more than a "Can" and witness the effect of the "Can" on pre-flashover conditions.
The target audience for this class is firefighters and fire officers at any level with a desire to increase their confidence and learn how to properly utilize the water can.
For more information about the Orlando Fire Conference 2015 please go to www.OrlandoFireConference.com
No comments
Captain Scott Allison, of Tower 1 in Harrisonburg (VA) sent in these pictures of something they recently encountered on an odor investigation call at a cell phone store. Take a look at the pictures and we'll talk about it below.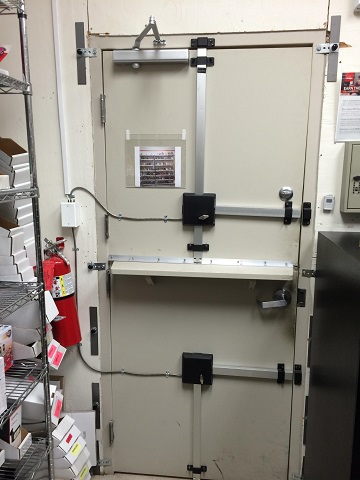 You might not expect to find this level of security on a fully interior room. As we mentioned in the intro this was found in a cell phone store. These stores have been subject to a significant amount of after-hours break in's due to the high value and small size of the product. As a result, the stores are going to extreme measures to secure the product.
Obviously roll down doors are not frequently found in a small mercantile occupancies like this. In addition to the roll down, the spilt barn door offers two fox style-locking mechanisms. From the outside the presence of the centered key-way and straps should alert you to the fox style locks.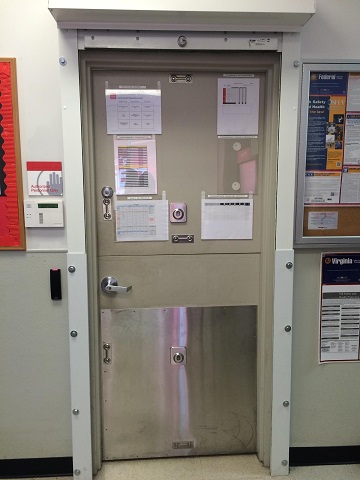 Obviously the likelihood of this door being fully secure with someone inside is not high, but it's not impossible either. If encountered in a working fire after hours, this room would certainly need to be accessed and investigated. While to door itself is quite secure, odds are the wall around the door would typically be the weakest link. However if you look closely, in this case, it looks like the walls inside the room are lined with painted plywood. Making the wall breach option a little slower than usual.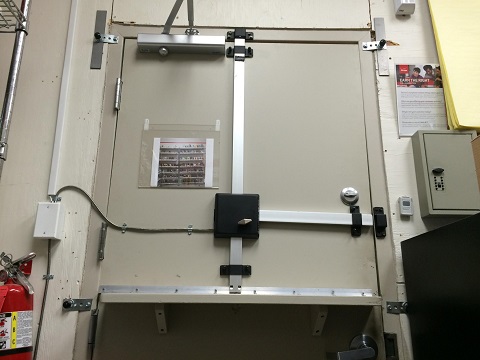 Something else to consider making the job a bit easier would be to pull the fire alarm if it is not already sounding. In this case you can see that the fox style locks are activated electronically via a proximity card reader. Typically supplemental electric locks like this are opened when the fire alarm is sounding. It's not a foolproof method by any means, but it if it works all you're faced with after the rollup is defeated is the traditional deadbolt and slam latch.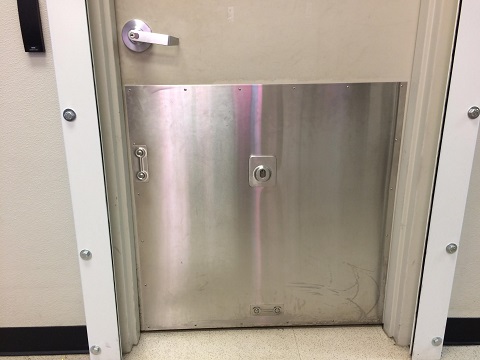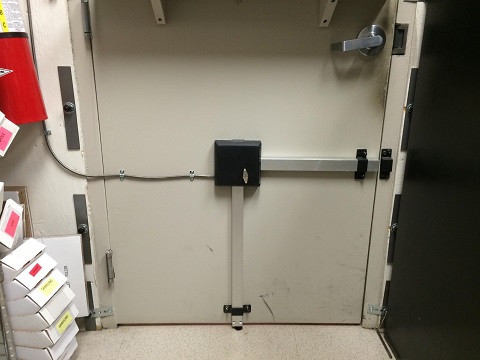 Like in many cases, a well thought out traditional force would most likely would be the quickest option. Identifying and visualizing what locking mechanisms are present and attacking the door in a calculated fashion would certainly get you in. The lower door has the fewest locking mechanisms (one slam latch and two bars) so it should be the primary objective.
2 comments
Captain Shawn Royall from Charlotte Ladder Co. 23 sent in this idea to make sharing air in a RIT situation a bit easier. When training with their new packs they noticed that the pouches that contained the EBSS hose were a bit difficult to open with a gloved hand. They tried out a few ideas to solve the problem; two pictured here are a simple prussic loop, and a golf ball on a prussic.
The nice thing about these designs is that they not only allow for the holster snaps to be opened quickly, but it also provides for positive contact with the working end of the hose from the beginning of the operation. It prevents the potential of opening the holster, the hose falling out and having to search for the working end.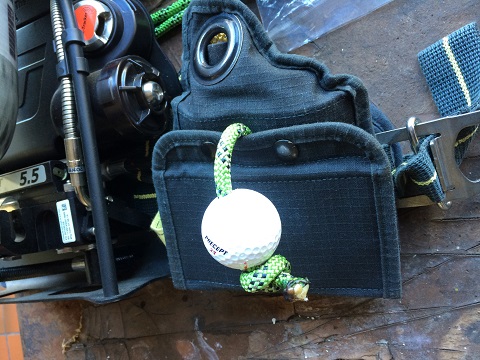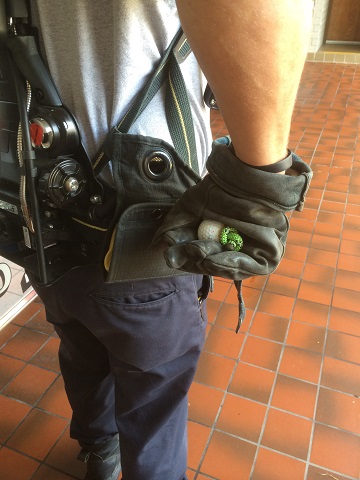 Certainly one potential draw back to this design could be the potential snag or entanglement with the additional handle. As with anything, training with the new setup would be the key. What works for one doesn't necessarily work for others, but you must train on what you have. Sometimes an out of the box idea may solve the problem at hand. This idea could certainly be adapted to the hoses on the RIT bag as well. The prussic set up and pictures courtesy of FF Deany Phillips of Rescue Co. 10-B and the golf ball design from Ladder Co. 23-A.
5 comments