Archive for October, 2014
Often times we find ourselves needing to make access into a home in a quick yet non-destructive manner. This may be for well-being checks or public assist type calls. Most non-destructive methods of forcible entry simply require some creativity and a little knowledge of how a variety of different doors and locks are secured. This technique is no different, but involves a door we typically don't take the time to defeat, the garage door.
In this video we demonstrate how to use the Keyless Garage Door Entry Tool to manipulate the emergency release rope on the automatic garage doors. This release rope is typically installed to allow the homeowner to open the door manually during a loss of power. Once we visualize how it works and know where to find it, it may be a viable option for non-destructive entry.
The tool is inserted into the gap at the top of the garage door and maneuvered into place to grab the emergency release rope. While keeping tension on the release rope, the garage door can simply be manually raised from the outside.
The one potential flaw in this method of forcible entry is if the door leading from the garage into the house is locked. Even if that is the case, and you end up having to use a traditional through the lock technique on it, once the call is over the garage door can be lowered and home can be secured.
With a little practice you can become quite proficient in using this non-destructive "forcible entry" technique.
10 comments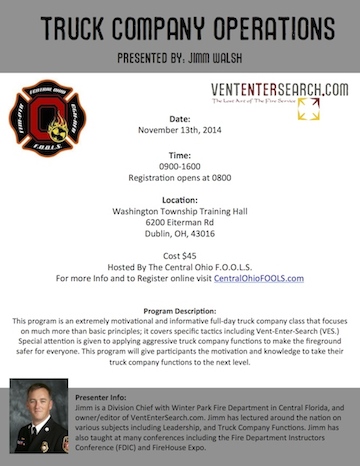 Join Jimm Walsh in Dublin, OH on November 13th for a full-day motivational and informative Truck Company presentation titled Truck Company Operations. This class includes portions of Jimm's popular Truck Company programs Aggressive Truck Functions for a Safer Fireground, and Vent-Enter-Search. The class will cover the importance of aggressive truck functions and their positive impact on fireground safety and why VES is actually the safest most effective way to search. Click here to download the flyer.
Please contact us at staff@vententersearch.com if you would like additional information about bringing one of our classes to your location.
No comments