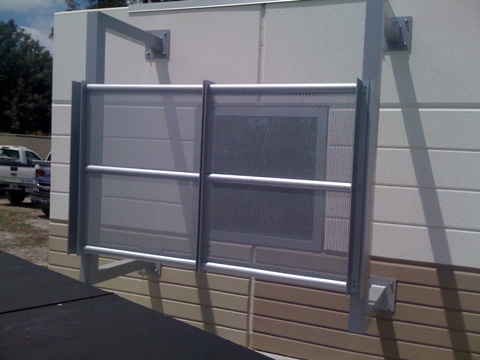 Neil Duffy from Boca Raton (FL) sent in these pictures of some solar shields being installed on a new building in his area. The shields are designed to cut down on the sun's radiant heat from being absorbed into the building at each window. Since the building is located in South Florida, the windows are also hurricane rated. The shields are made from heavy gauge steel and mesh screen. The picture shows a mocked up section of the building that contractors build early in the construction phase to show what the final product may look like. The finished building will be eight stories tall with the solar shields on the southern and western exposed windows.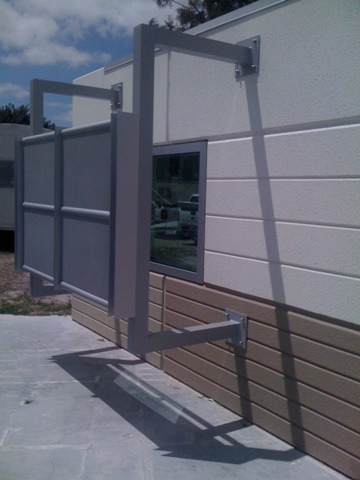 Since the shields standoff of the building approximately three feet, it leaves just enough room to make assess or perform a rescue or vent from a ground ladder. The upper floors however may be more difficult. Since the aerial device may not be able to get close enough to the building, it may not allow for a steep enough angle to get underneath or around the obstruction. Defeating the shields with a rotary saw is certainly an option, but will be slow going, and must be done cautiously. Cutting the mesh to the left and right sides would probably be the best bet, leaving the heavy square tube bracket in place. Caution must be exercised with the shield falling away or even becoming a sail and falling away from the building in an unpredictable manner. Cutting one side and bending the shield away may also be an option, but would more than likely need to be performed from a tower ladder. Regardless of how you and your crew would handle dealing with this obstacle, the key to success is discussing it ahead of time, and training on whatever technique you would utilize.
The trend toward more "green" building construction is undoubtedly change our business. You may not see anything like this in your area yet, but keep an eye out for it, it's only a matter of time.
21 comments