Riding assignments are one of the simplest methods to increase your efficiency and effectiveness on the fireground. Riding assignments should be thought-out ahead of time, put in writing, trained on, used on every incident and on every apparatus. The utilization of riding assignments ensures that critical tasks are getting done in the most efficient way, at the most appropriate times, and helps minimize redundancy of efforts. In order to make riding assignments truly effective for your organization, they need to be customized for your specific needs (apparatus, staffing, equipment, building construction, response time, etc.)
Posting the riding assignments in a conspicuous place is helpful to remind everyone who's assigned to each task, and even helps ensure that the assignments will be actually be used on the fireground.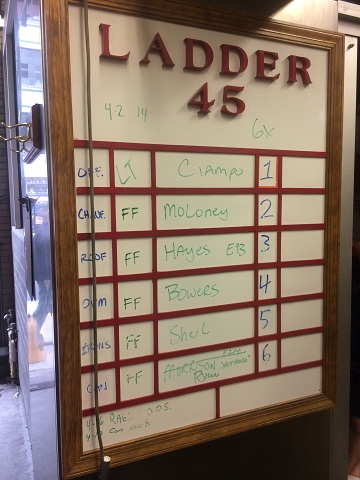 Pictured above is the riding assignment board for FDNY truck 45. It is a simple whiteboard (done up with some company pride) that list each assignment, and who is assigned for the tour.
Pictured above are examples of apparatus mounted riding assignment placards. (The photos are from Bedford (VA) Ladder 1, the photos were taken a few years ago when the rig was on display at FDIC.) Mounting them on the apparatus, at the actual seat, is an excellent way for Volunteer departments in particular to utilize seat assignments. It reminds each member of their responsibilities since they may end up in different seats, or on different apparatus for each call. Another benefit is that the Officer can quickly look back while enroute and see how many members are on board, and what assignments will be covered, and more importantly what assignments still need to be considered.
In our next post we'll get into the specifics of some riding assignments, and continue the discussion on their benefit. We will even get into the importance of tool storage as it relates to riding assignments.
5 comments