Most of the tools used in the fire service today were developed in the firehouse based on the needs of a particular area. Many of these tools have stood up to the test of time and are currently being produced and utilized across our industry. There are many great tools and quality tool manufacturers out there, however, there are also many gimmick tools on the market. These gimmick tools lack true functionality or durability to hold up the abuse found on the fireground and end up being a waste of time and money.
This post is not to bash any company or any tool that is currently on the market, it's simply a discussion of firehouse ingenuity and its role in our business. Simply put, making or modifying tools to fit your specific needs is a great idea. Here are two examples of what was developed at two different firehouses, to fit their specific needs.
Brian Brush from West Metro (CO) Company 10 sent the photo below of his department's modification on the roof hook. They wanted a roof hook combined with a rubbish hook on the other end. So they removed the chisel tip from one of their roof hooks, inserted a plug, and fabricated a rubbish hook from 5/8″ round bar. They felt the rubbish hook provided a good footprint for sounding the roof and a large purchase for opening up drywall. It's their take on a east meets west roof hook.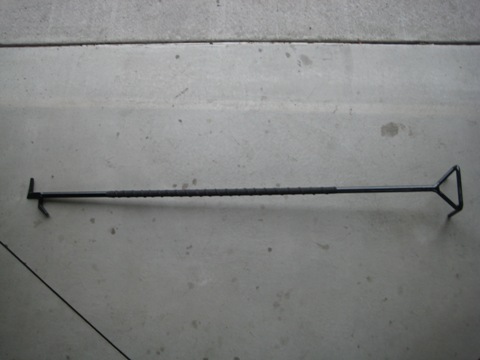 Robert L. Doucette from Meriden (CT) Engine 4 sent in his fabrication pictured below. He wanted a customized "heavy" rake hook with a chisel tip on the opposite end. His custom hook is fabricated entirely out of steel with forged working ends. The tool's heavy weight helps it get through the thick plaster and lathe construction found in his area. What makes this tool's rake end unique is the added scoring spine. The spine assists in getting the initial purchase point needed to open things up. As a final touch, a link was welded on the tool for the floor above vent technique.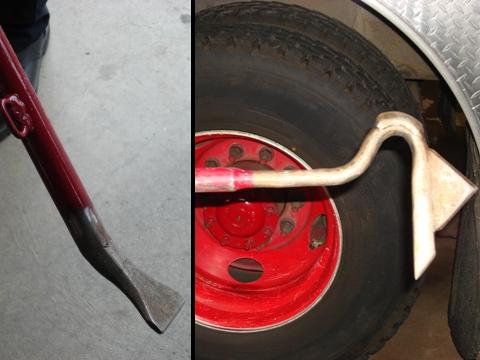 These tools may not work for you, but they work for them, and that's what it's all about. Make your tools work for you!
47 comments