Archive for the 'Product Reviews' Category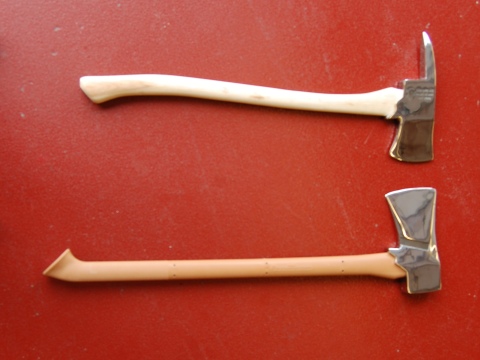 We recently had the opportunity to do a product review on two different axes from Fire Axe, Inc. The two axes we reviewed were the 8lb flat head axe with 36" fiberglass handle, and the 6lb pick head axe with 32" hickory handle. At first glance it may appear that these are presentation axes, but nothing can be farther from the truth… These axes are made to be abused! The axe heads are made from high grade tool steel, heat treated and polished (not chrome plated.) If we had to sum up their performance in one sentence, we would simply say: These axes held up better than any other axe we have ever used. Click here for the full review.
35 comments
Take a look in the right column, we have just created a new category titled Product Reviews. This will be an area were we can post full write-ups and reviews on different products we test out. The first product reviewed was a helmet mounted camera provided by FireHelmetCam.net look below for a full review on this great product.
We are currently testing a new diamond tipped rotary saw blade provided by D.T.I and Tempest Technologies. The preliminary reports indicate this blade is capable of cutting wood, concrete and metals. We're in the process of testing it out and will have a full report in the near future.
If any manufacturers or reps have products they would like us to test and review please feel free to contact us via email.
3 comments
Our first formal product review was a helmet mounted camera that can put up with fire service abuse. It's a small self contained camera that records video on a removable memory card. We put this camera through the works and did a full write up.
Be sure to check out the review and check out FireHelmetCam.net for purchase information.
93 comments