Archive for October, 2017
Joseph Dorsette, from Broward County Sheriff's Office (FL), recently submitted his findings that were discovered during an alarm at a residence. While conducting a 360 he noticed the single-wide mobile home behind the actual alarm had been modified into a double-wide, with an extra addition.
The existing single-wide mobile home appeared modified, the car port was closed in with a lightweight wall which was constructed of half inch plywood, sprayed with knock-down and painted. Three windows were added as well as a satellite dish, this made it appear to be the original double-wide.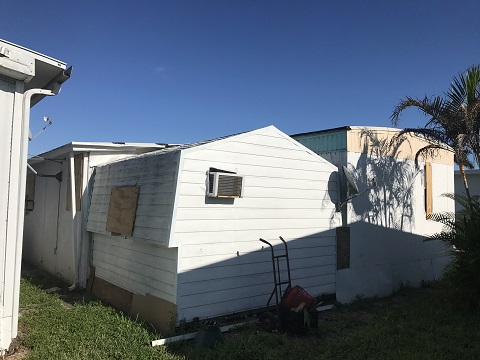 The second modification was an 8 x 8 metal shed possibly used as an additional bedroom or general floor space. A hole had to be created in the rear of modified car port and then the shed butted up against the home. Strips of aluminum, pieces of painted plywood, and some type of adhesive were added to make it fit against the home. Also, a hole was cut into the rear of the shed for a window shaker and a second satellite dish. It is unknown if the owner or occupants ran electric to the additions or possibly utilized extension cords for power. Also unknown is the layout of the inside, if the shed doors were left in place or removed and if an interior door was used and possibly subleased.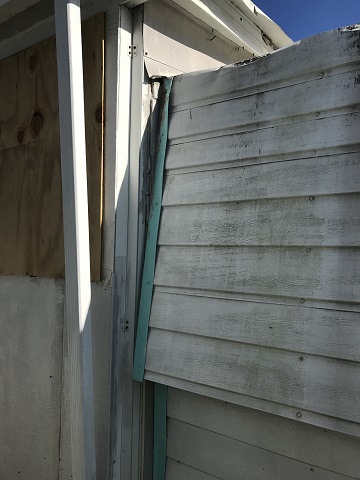 Another interesting observation, was the shed and the right side of the mobile home (looking at it from the pictured angle) were not connected internally but connected externally with a small piece of plywood and the aluminum panels from the ground
Joseph was not able to make contact with the occupant and all windows were boarded up from hurricane Irma. He stated that "As an officer this type of addition to an addition can hinder several aspects of our operations from interior attack to search and rescue."
Other topic this post brings up are boarded up windows. This time of year it is common for hurricane prone areas to have a large increase in board up windows. Hurricane board ups, although typically not difficult to defeat, can present entry and egress issues if not prepared. If you work in a hurricane prone area, survey your first due during this time and build multiple plans of attack.
1 comment