Archive for December, 2015
We are sure this video is going to make its rounds on the Internet. At this point we don't know much about it other than it's from Bellerose Terrace NY. Judging by the names on the coats, we are guessing it's Floral Park FD. We already know that many people have taken exception to the lack of SCBA use during entry. We could also make an argument to leave the building sealed up until the water can was ready to go. However, we are not here to throw stones, lets use this video to discuss the effectiveness of the water can. In this instance it appears that the Truck Company (without water) arrived ahead of the Engine Company. This could happen in any city in the world. Even if your Truck Company carries water, it could have been a Chief's buggy that arrived on scene first. For that very reason, EVERY VEHICLE THAT HAS FIRE DEPARTMENT MARKINGS SHOULD HAVE A WATER CAN! We can show up on scene and do nothing, or we can at least slow the forward progress of the fire. We are the fire department and that's what people expect, regardless of the vehicle we show up in!
As demonstrated in the video, the water can works! Every firefighter should be Properly Trained on how to efficiently and effectively use the water can. We are professionals and should know more about this essential piece of Fire Department equipment… It's a lot more than just P.A.S.S.
We have always been advocates of the water can. In the hands of a well trained firefighter, the can will put out a tremendous amount of fire.
10 comments
Engineer Brandon Daniel from Kannapolis (NC) Fire Department send in these photos of his modified vise grips. As you can see from the photo, he made two simple modifications to the vise grips that make the tool more versatile.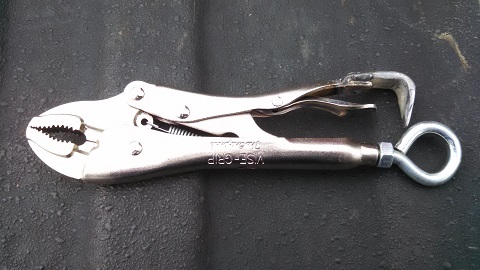 The first is replacing the set screw with a threaded eye bolt. This modification not only makes the eye bolt easier to manipulate with a gloved hand, it also serves as an attachment point for webbing when using the vise grips to stabilize a padlock when cutting with the rotary saw. The other modification was welding a key tool to the handle of the vise grips. This ensures that the key tool is always readily available when utilizing thru-the-lock techniques. Its worth mentioning that may be beneficial to make the tip of the key tool a bit more slender about 3/16″ or so to ensure it fits inside the lock sufficiently to manipulate the mechanism.
5 comments