Archive for January, 2014

VentEnterSearch's own Jimm Walsh and Eric Wheaton will both be presenting at the 2014 Orlando Fire Conference in Orlando, Florida. The conference runs from February 27th-March 1st, 2014 and offers both a leadership symposium as well as a hands on training (HOT) program.
Jimm Walsh will be presenting on the importance of Communication on the Fireground and in the Firehouse on Saturday March 1, 2014. This class includes portions of Jimm's popular leadership programs: From the Jump Seat to the Front Seat, and From the Firehouse to the Fireground.
The Associate Editor of VentEnterSearch, Eric Wheaton, will be teaching a segment of the Fire Fundamentals HOT class titled Can Confidence. This class is designed to build confidence on one of the most often neglected tools found on nearly every fire apparatus, the 2 1/2 gallon water extinguisher. The "Can" can be an extremely effective lifesaving tool by allowing a well trained fireman to quickly apply water between fire and victims. Attendees will learn proper filling and pressurization steps, how to build homemade carrying straps and other useful "Can" modifications. The class will also cover valuable skills on carrying and searching with the "Can." Finally, attendees will perform live fire attacks with nothing more than a "Can" and witness the effect of the "Can" on pre-flashover conditions.
For more information or to register for the Orlando Fire Conference 2014 please go to www.orlandofireconfernece.com
No comments
Engineer TJ Riggs from Federal Fire San Diego (CA) Truck 11 sent in photos of his homemade strap, bundling together a Maxximus Rexx halligan, aluminum wedge, and a small sledgehammer.
Elastic secures an aluminum wedge on the pike, while allowing it to be easily removed when deploying the wedge. Two Velcro straps secure the head of the sledgehammer into a ring. There is a support rope, protected with heat shrink tubing, sewn in on each end to keep the halligan from sliding in the harness. This also holds acts as a backup in case the harness opens up accidentally.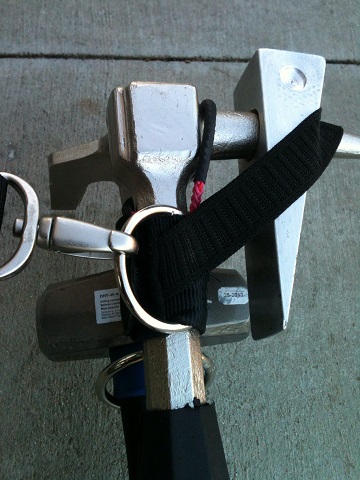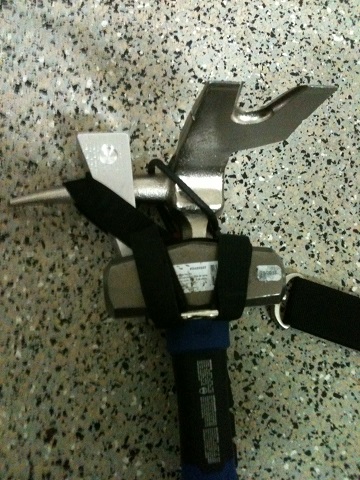 This is well put together forcible entry package, especially for thru-the-lock. If your not familiar with the Maxximus Rexx halligan it is a newly released halligan from Fire Hooks Unlimited with some nice modifications. One being the adz has been modified into it's own version of an "A tool" making it a great thru-the-lock halligan. The aluminum wedge works well for gaining a gap or purchase in tightly sealed doors, this wedge obviously holds up better than a conventional wooded wedge. The small sledgehammer is used as a striking tool for pulling lock cylinders with the modified adz/A tool of the Maxximus Rexx halligan.
It is important to come off the rig with whatever tool(s) you are going to need to accomplish the task at hand, no one wants to run back to the rig multiple times. So we want to know, is there any unique "tool packages" you like to carry?
14 comments