Archive for November, 2013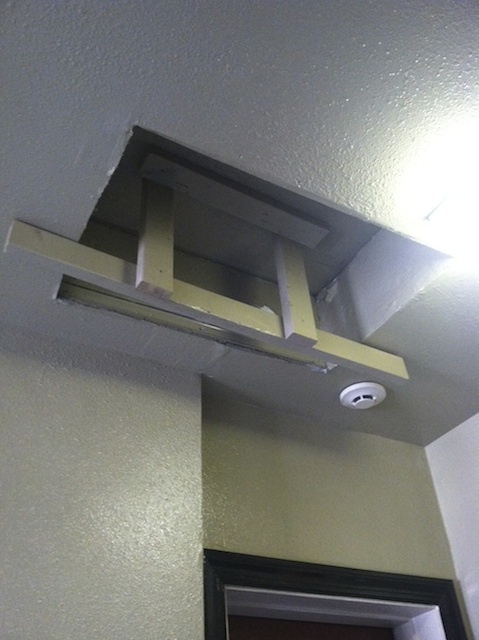 John Douglass sent in something he found while detailed over to DC Truck 15. This scuttle has a homebrewed method of being secured with 2×4's. Regardless if you are opening this from the roof, or the interior, almost any hand tool should be able to defeat it. If this was a ghetto fabulous plywood skylight replacement that you were removing from the roof, it might give some unexpected resistance. But the nails or screws that are holding it together would more than likely be the weak point, and pull right through the plywood. When removing from below, a quick strike from a hook or halligan should do the trick. Even when operating on a "nothing call" like a fire alarm, it is essential to be ready for anything and be prepared with tools in hand. It would certainly be embarrassing to encounter this and have to head back out to the rig to retrieve a tool to defeat it.
1 comment
Derek Brown from Madison (WI) Firehouse 7 sent in these photos of new style of roof construction he and the crew ran into in their first due. The building in the photo is a two-story day care facility that features an interesting style of roof construction.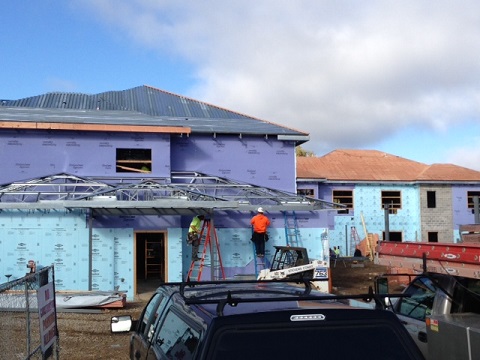 The building has steel trusses with corrugated metal sheet decking directly over the truss system.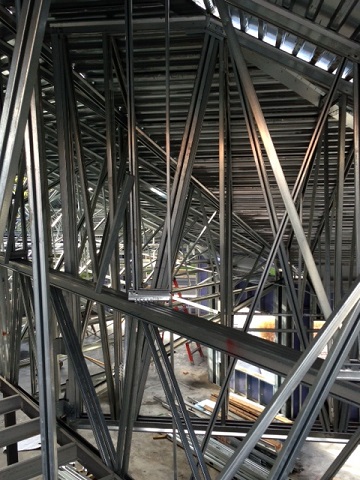 On top of the corrugated decking there are fire rated 2×4's acting as a purling.  Over the purling is fire rated 3/4'" plywood. The roof will be finished off with traditional tab shingles. Once completed the roof will look no different than an ordinary shingle roof.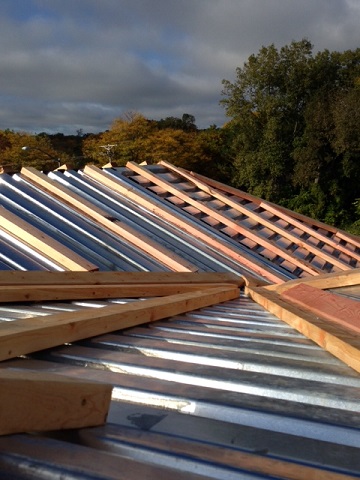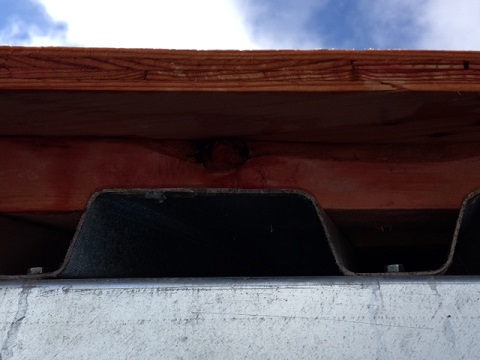 Accomplishing a vertical vent on this building would be interesting if the style of construction was not know ahead of time. A good carbide tip on the chain saw should get right through the entire assembly, but will certainly take a bit longer than traditional plywood or OSB decking.
4 comments
Every truck company should be prepared to handle those obscure rescues like: machinery entrapments (fingers, hands, arms) Child stuck in a swing seat, and even simple ring removals. These calls can easily be handled by a well-trained and properly equipped crew and a little ingenuity. Included below are some photos and inventory list of the Man in Machine (MIM) Kit carried on Winter Park (FL) Truck 61. The kit is carried in a Pelican Box with shelves made from ½" HDPE plastic, and tools are secured in place with Velcro straps. The box is a little on the heavy side, but meets the need. We'll point out a few of the more oddball items included in the kit with a quick explanation of how it's utilized.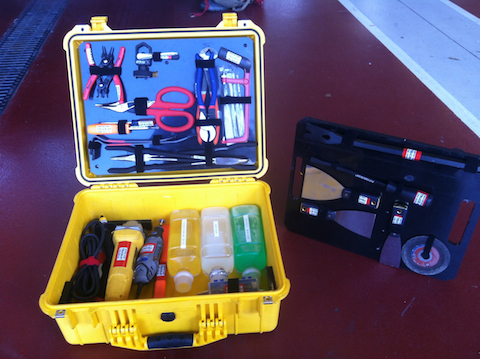 Many of the newer style of wedding rings are made from more exotic materials than previously found like tungsten carbide and titanium. These modern ring materials are to strong for the traditional ring removal tools often found in medical bags. This kit contains a ring cracker specifically made for tungsten carbide rings and a dremel tool and spoon handles for cutting titanium rings. The spoon handle is placed under the ring in between the ring and patients finger so the dremel blade does not come in contact with skin.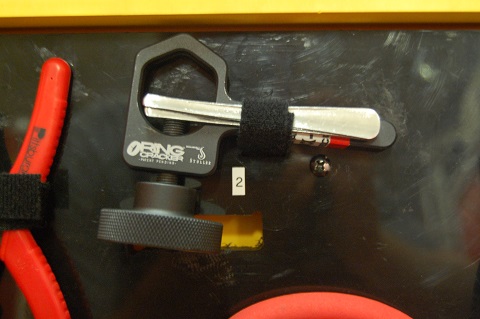 The snap ring pliers is a great tool to carry since many machine components like rollers are held in place by snap rings on the ends. The snap rings are present to allow of the machine to be taken apart for maintenance. When dealing with a MIM type rescue, sometimes the simplest way to remove the entrapment is to take the effected portion of the machine apart instead of just trying to pry or defeat it in a destructive and often more time consuming method.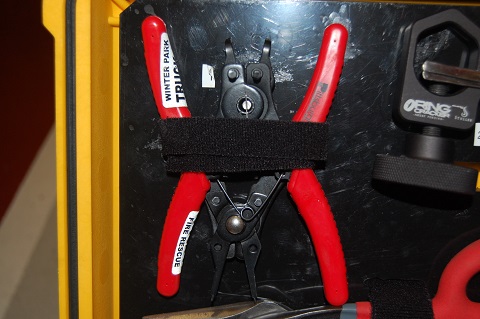 Having simple lubricants handy like soapy water and vegetable oil work well in instances when less traumatic injuries are present and the effected body part is simply "stuck." The water can be used as a cooling agent when any of the grinding tools are being utilized. Simply poking a few holes in the cap of the water bottle allows for the water to be squeezed out or dripped into the area of need.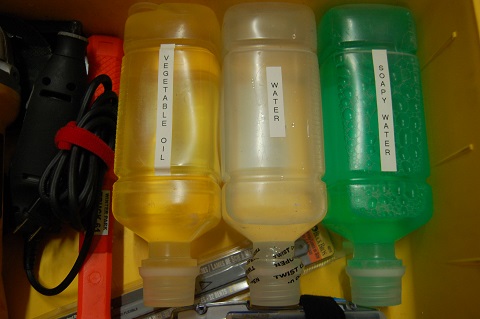 This kit is by no means the best kit out there; it has been assembled to handle the most common types of MIM incidents Truck 61 has encountered. Depending on the type of entrapment other items found on the truck are also utilized such as simple mechanics tools.
TOP
(2) SNAP RING PLIERS
(1) RING CRACKER w/ (2) SPOON HANDLES
(1) WIRE CUTTERS and (1) HEAVY DUTY END NIPPER
(1) SMALL HACK SAW w/ SPARE BLADES
(1) TIN SNIP
(1) SMALL FLAT HEAD SCREW DRIVER and (1) MULTI-HEAD SCREW DRIVER
(1) 9" PRY BAR and (1) 11" PRY BAR
(1) LONG REACH NEEDLE NOSE PLIERS and (1) LONG REACH 90 degree NEEDLE NOSE PLIERS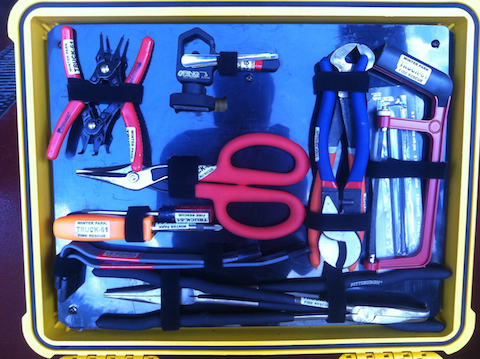 REMOVABLE TRAY
(3) COMPOSITE GRIND WHEELS
(1) 2" PUTTY KNIFE
(1) 3" PUTTY KNIFE
(1) 4" PUTTY KNIFE
(1) PLASTIC MOLDING REMOVER
(1) 18" PRY BAR
(1) LARGE HACK SAW (stored on back side of tray)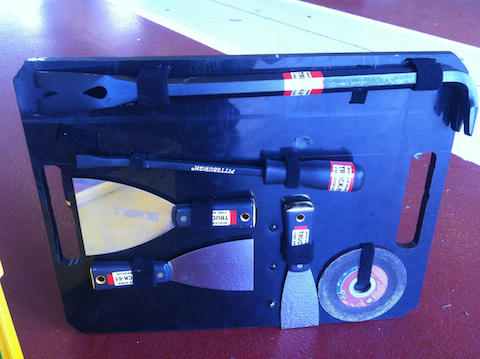 BOTTOM
(1) STEEL WEDGE
(1) ANGLE GRINDER w/ DIAMOND BLADE
(1) DREMEL TOOL
(1) 2.5lb DEAD BLOW HAMMER
(2) DREMEL TOOL ACCESSORY KITS
(1) 1000ml VEGETABLE OIL
(1) 1000ml WATER
(1) 1000ml SOAPY WATER
(1) LARGE HACK SAW BLADE PACK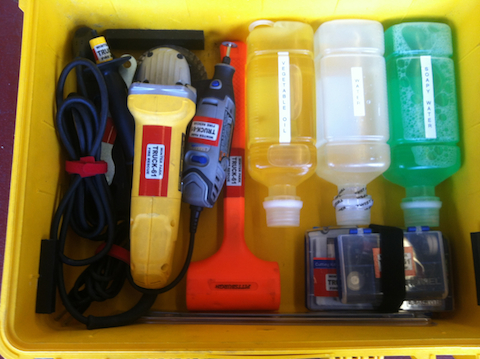 There are some tremendous resources available to learn more about MIM type Rescues, the guys over at www.plvulcanfiretrainingconcepts.com have some great resources. Also www.countyfiretactics.com has been featuring a bunch of MIM props that Andrew Brassard from www.brotherhoodinstructors.com has been submitting. It doesn't take much to assemble a kit to increase your capabilities for the often challenging calls. So what other items have you found a need for in your MIM kit?
21 comments