Archive for April, 2013

VentEnterSearch's own Jimm Walsh will be presenting a class titled Aggressive Truck Functions for a Safer Fireground at FDIC 2013. The class will be on Wednesday April 24, 2013 @ 13:30 in room 136-137
Here is a short description of the class:
Many people associate the term aggressive with unsafe, particularly when it
comes to truck company functions. The fireground can actually be made safer
through the timely execution of truck company functions. This presentation will
stress the importance of aggressive truck functions on the fireground and their
positive impact on fireground safety. Due to the limited staffing that most
departments are currently facing, we must improve our efficiency on the fire
ground. Many departments are cutting staffing or eliminating truck companies
all together. Aggressive truck functions will allow everyone on the fireground
to work in a safer and more efficient manner. This presentation will expand,
and give valuable insight on the understanding of aggressive yet safe truck
company skills, and the value of training. Class participants will gain valuable
tips on how to increase the efficiently and effectiveness of their truck
company functions. In addition, participants will better understand the
necessity of truck company functions on every fire. Most importantly,
participants will better understand how aggressive truck company functions
can be utilized to create a safer fireground.
No comments
Lieutenant Kevin Nay from Leyden (IL) Fire Protection District sent in this easy saw modification. They were looking for a simple way to secure the chainsaw when not in use while operating on a peaked roof. They fabricated a bracket from scrap plate aluminum found in the shop. The bracket simply uses the existing screw holes for attaching the bracket to the saw. The cost was under $2 for the longer screws.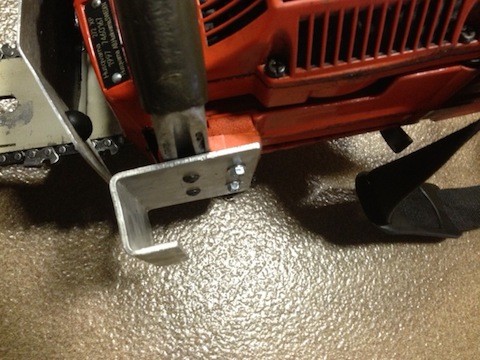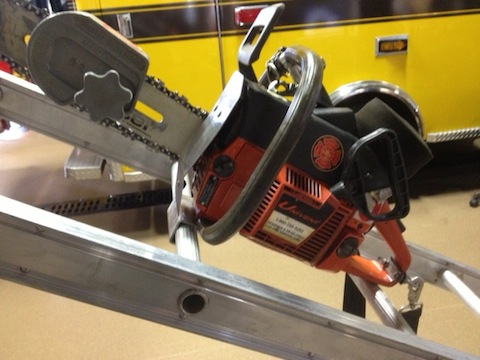 This technique is useful for chainsaws that have the depth guard on the bar. Making this modification changes how the saw "sits" (as seen below) but will not change how the saw "feels." Either way everyone should get hands on and train with the saw after this (or any) modification to become familiar with it.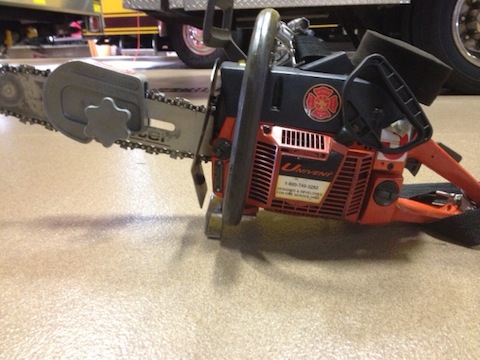 14 comments