Archive for June, 2012
Dave Weinman from Frederick County (MD) sent in this photo and description of their "force bag." The bag becomes a one stop shop for both destructive combat forcible entry operations and routine through the lock and non-emergency entry operations. They routinely grab the force bag and the irons (they use the popular 8lb force axe and a tuned up pro bar) or a rotary saw, resulting in very few doors that they are not able to defeat.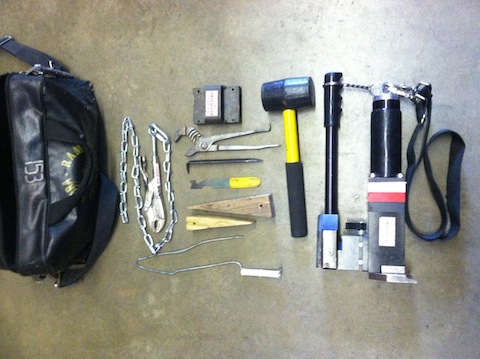 The kit consists of a Hydra-Ram and its standard bag with the pictured tools added to perform a number of different operations.  In addition to the Hydra-Ram and mallet, (which may or may not be necessary when carrying the irons) they have included the following tools: a modified channel lock tool with key tools in the handles for the removal of rim locks, a K tool in case the rim lock needs some extra encouragement, an additional key tool to take care of the stem hole or recessed latch like those found on Adams Rite commercial locks.  For less fortified doors they have also included: a bucket handle tool for the opening of double glass doors with push bar openers, and a shove knife for making quick work of unsecured knob locks.  A vice grip with chain is also included for lock cutting operations, or door control. The bag is finished out with wood wedges for capturing progress during one man forcible entry or for securing open a forced door.
 
The bag is fairly comprehensive and addresses the common forcible entry needs they have identified in their first due area. The strapped carry bag slung over the shoulder allows the member assigned to FE to carry the irons in one hand while maintaining.
 
29 comments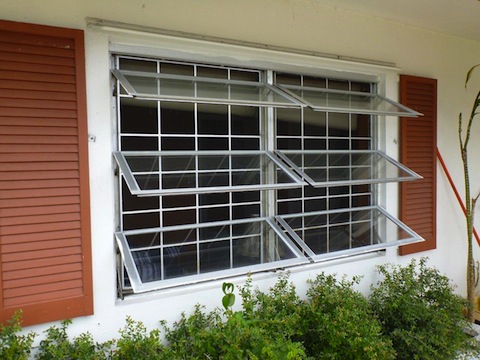 Captain Rick Cravero from Tamarac (FL) sent in these photos of security bars on the inside of windows from a local neighborhood. When the windows are shut, the bars appear to look more like french window panes instead of security bars. One thing that may give it away is that in this particular case, is that not many jalousie windows had french panes.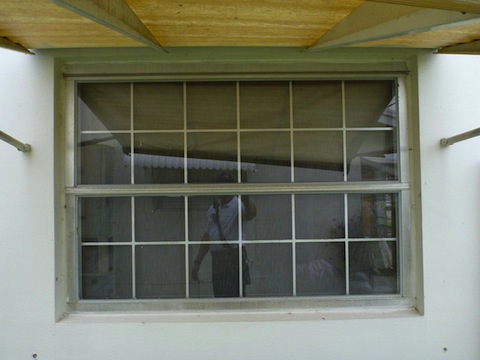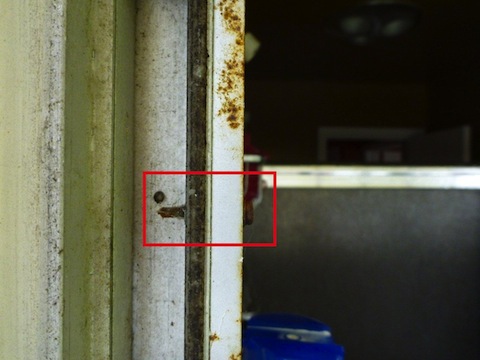 These particular bars are simply held in place by some self-tapping screws into the original window frame. These bars may slow us down a little, but shouldn't be much of a match to a determined firefighter. Depending on how the window frame is secured (how many screws were used), pulling on the bars may remove the entire window frame. If the window frame is well secured, then inserting either the fork or the adz of the halligan in between the window frame and the security bar assembly to separate the bars from the window frame would speed up the removal. Once the frame of the bar assembly is weakened and separated from the frame in a few places, the entire bar assembly should be able to be "hinged" away from the window opening. The rotary saw always remains an option, but believe it or not, the hand tools may end up being quicker.
The main thing to consider when faced with bars is to remove them early! Waiting until conditions deteriorate, or worse, when a fellow firefighter needs to bail out is not what we should be doing. Trying to minimize damage to the structure by waiting to remove them may actually cause more damage in the end. Simply open it up, and get the job done!
11 comments