Archive for May, 2012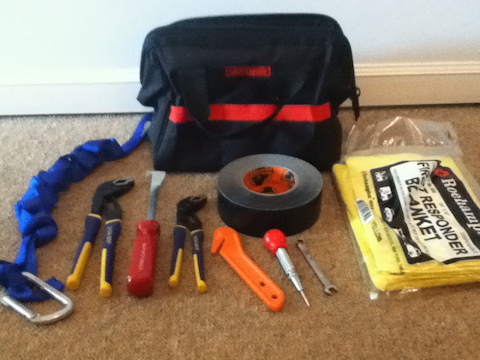 Mike Terzo Jr. from Rush (NY) sent in this kit of tools he deploys at motor vehicle accidents. The kit includes the following: seatbelt cutter, window punch, duct tape, Ajax strip and peek tool, vice grip adjustable wrench, yellow disposal blanket, length of webbing with carabineer and a 5/16 wrench. The tools are used primarily to disconnect the battery, cut seatbelts, break windows, check under the interior trim for possible air bags or high voltage power, door control, and patient protection.
The purpose of carrying all of the tools in one bag is to ensure that each of these tools is available at every auto accident. The benefit of having all of the commonly used tools in one place allows quick access when the kit is placed on the hood or roof of the vehicle. An additional benefit is that it allows firefighters to carry less equipment in their own pockets. These kits can be made on the cheap, and can be customized based on individual preferences.
21 comments