Archive for November, 2011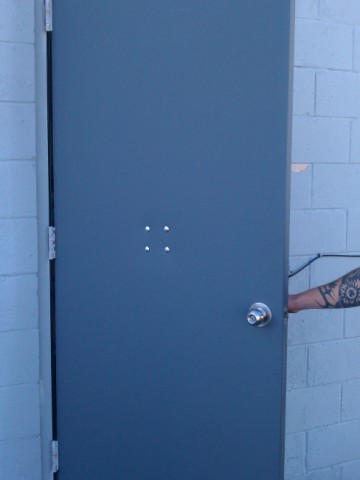 Captain TJ Underwood from Goldsboro (NC) Fire Department sent in these photos of a recent find on a company inspection. This supplemental lock was found on a department store located in a strip mall. Apparently the store had recently been broken into, so the store owners had a local door company fabricate and install this lock. As you can see from the photo below, the locking mechanism is simply made from galvanized pipe and is designed to pivot into place. Fortunately the presence of the supplemental lock is obvious from the outside due to the visible carriage bolts. Simply cutting into the carriage bolts will defeat the lock, allowing the door to be opened with a simple traditional force to bypass the Mickey Mouse in-handle lock. Plunging the saw straight into the door in an attempt to defeat the supplemental lock will prove to be ineffective due to the distance between the bar and the door, and the limited depth of the blade.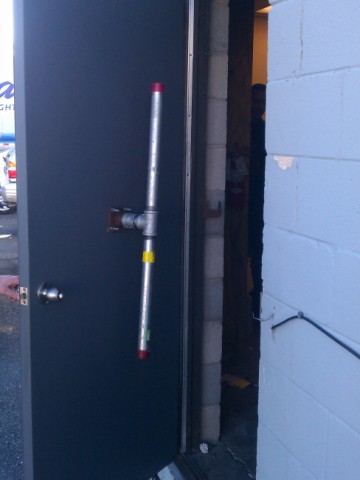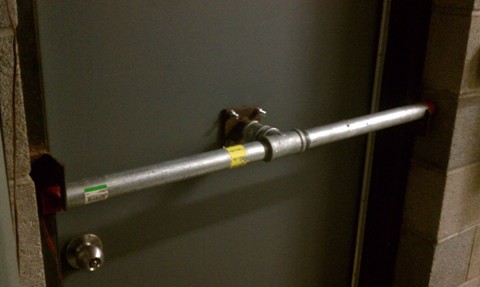 11 comments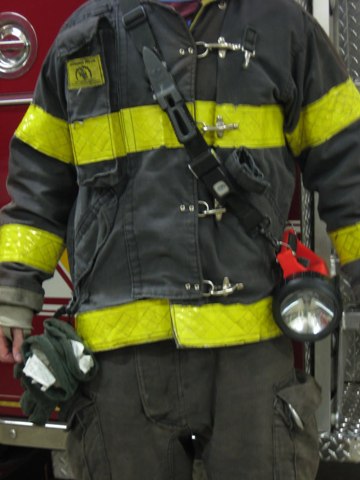 Tim Anderson from Philadelphia Engine 16 sent in his method of storing a fixed blade knife. His setup uses one of the personal sized box lights with shoulder strap. His knife is mounted mid chest and is easy to get to with either hand. As you can see from the photo below, a few zip ties securely hold in knife in place.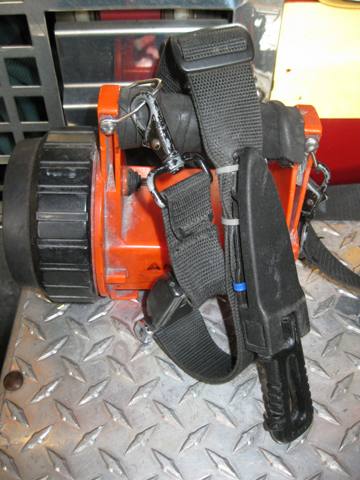 29 comments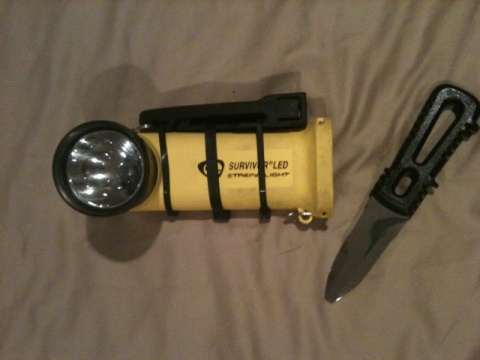 Dan Daly from Chicago Fire Department sent in his method of carrying an easily accessible knife. His set-up utilizes a river (or dive) style of knife that is attached to his flashlight with zip ties. Dan rides this light/knife assembly on the chest of his turnout coat. This location ensures the knife is easy to get to at all times. This style knife comes with a hard plastic sheath that locks the knife in place, while still allowing it to be removed with ease. This style knife has one sharp blade, a dull edge, and a dull point that can be used as a small pry bar or even a shove knife. One nice thing about a fixed blade knife is that it is easy to operate with a gloved hand. We have shown a number of cutter ideas here on VentEenterSearch over the years but have not featured many knife set-ups. Knifes and cutters are both great tools to have, they each have a number of different uses an limitations and should both be considered in your personal tool selection.
5 comments